HIKING TRAILS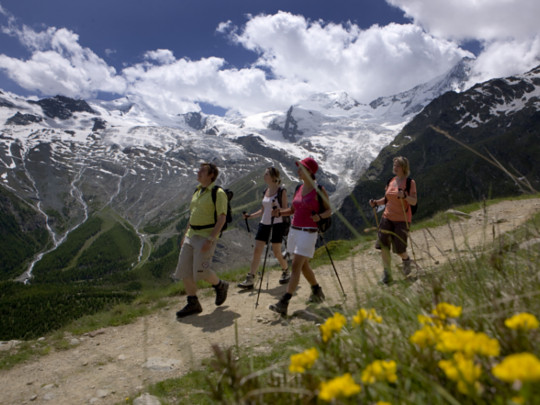 350 km of hiking trails – the choice is yours.... There's something for everyone on the well signposted hiking route network, whether for a day's excursion or a hiking holiday. Enjoy the delights of Europe's highest larch forest, against a backdrop of four-thousand metre peaks. Watch playful marmots, herds of chamois and shy ibex in the early hours of the day.
VIA FERRATA
With a variety of routes for every skill level, the Free Republic of Holidays, Saas-Fee is a via ferrata paradise! Diversity is a given: first rock then firn; a decline then an ascent; a mini via ferrata in Saas-Grund followed by a voyage up the Mittaghorn or Jegihorn – both over 3000m high. No matter which route you take, the challenge of the ascent will be rewarded with a breathtaking view of the 4000-metre peaks of the Free Republic of Holidays, Saas-Fee.
THEMED AND EDUCATIONAL TRAILS
Discover the fantastic alpine landscape and the numerous themed and educational trails. (Kreuzboden Wellness and Pleasure Trail - Alpine Flower Trail - Glacier Trail - Chapel Trail - Sun Trail - Suonen Trail - "18 4,000 metre peaks" - Saas-Fee Trail - Forest Trail - Almagell Adventure Trail - Carl Zuckmayer Trail - Tranquillity Trail - Kian's journey of discovery - Fairytale trail).
GORGE ALPINE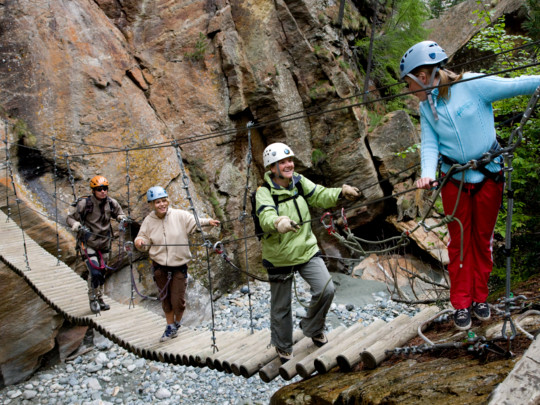 This is without a doubt the most spectacular way to get from Saas-Fee to Saas-Grund. This adventure climb takes you through the wild, rugged Fee Gorge between Saas-Fee and Saas-Grund. You'll make your way using zip lines, suspension bridges, ladders and steel cables. The highlights of the crossing are riding the exciting zip-lines and swinging between the rocks. After exiting the gorge, you'll soon reach the village of Saas-Grund.
THE FEEBLITZ TOBOGGAN RUN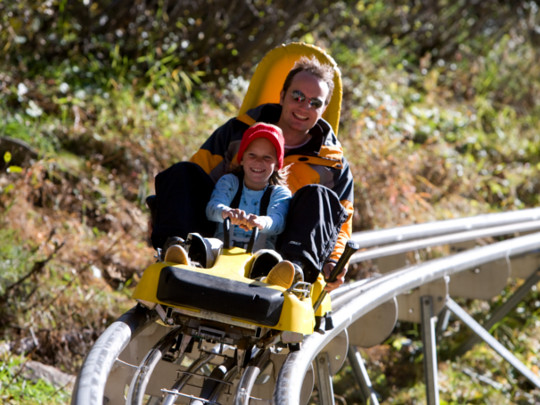 The Feeblitz guarantees year-round tobogganing fun for all ages. On your own or as a pair, take the steepest toboggan lift in the Alps to the start point and then hurtle back down to the valley at speeds of up to 40 km per hour! Once you have arrived, you can recover at the bistro, which serves a selection of great snacks and drinks.
THE ALLALIN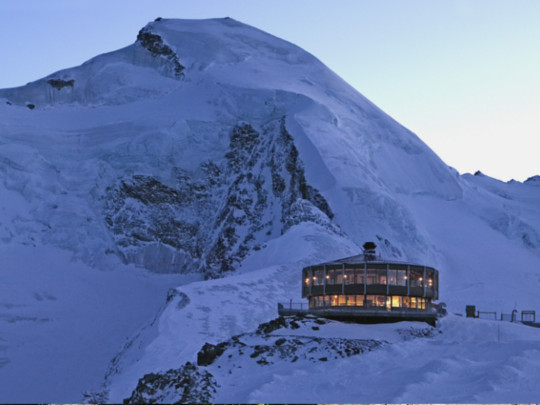 The Allalin is the world's highest revolving restaurant and a major Saas-Fee attraction. After all, where else can you enjoy a gourmet Swiss meal while experiencing breathtaking 360-degree views of the Alps in all their glory? To make your event truly unforgettable, combine it with a visit to the world's largest ice grotto.
MOUNTAIN BIKING TOURS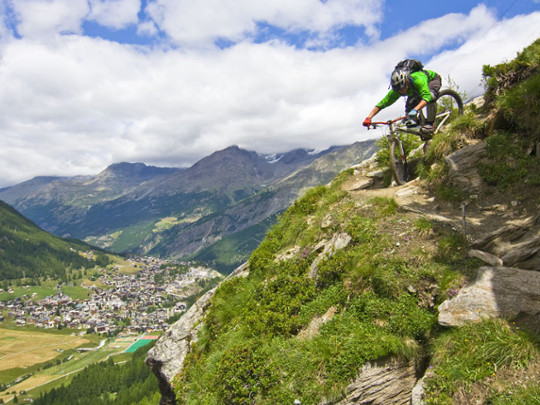 Mountain bikers can look forward to exploring the Saas Valley's 70 km of bike tracks! There are trails to suit all skill levels and all are well signposted. Tip: A detailed map of the bike track network is available from the tourist and cableway offices. (CHF 2.-)
FREIZEITZENTRUM
Das Freizeitzentrum begeistert Sie mit einem vielfältigen Angebot: Hallentennis, Badminton, 25 m Schwimmbecken, Kinderbecken mit Rutschbahn, Sauna, Whirlpool, Dampfbad, Indoor- und Outdoor-Liegelandschaft, Solarium, Tischtennis, Billard, Ausdauer- und Fitnessgeräte.
ALPIN GOLF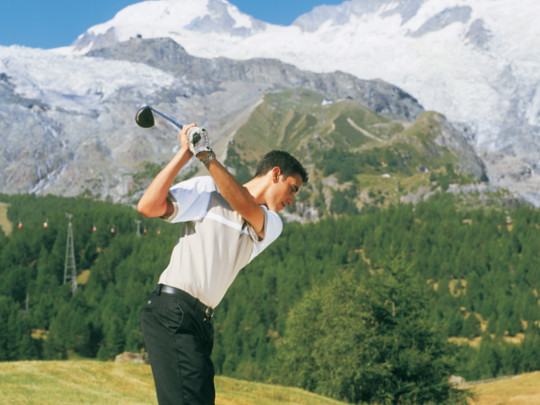 The nine-hole golf course in Saas-Fee (4100 metres for men, 3668 metres for women, par 70) is situated on mountain terrain and makes a welcome change for any golfer. No license required. NEW: PGA-approved golfreen to pitch and put.
PETTING ZOO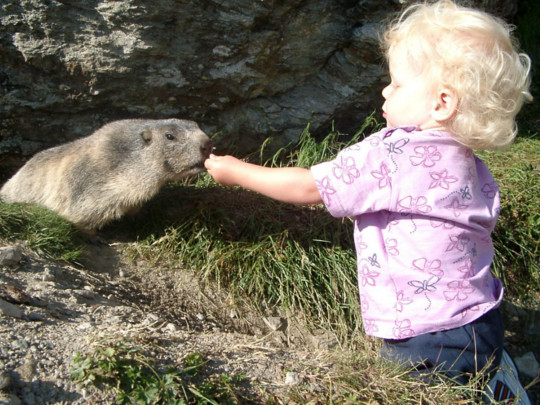 Children just love to get their hands on little animals like goats, marmots, rabbits and chickens. And the animals in our petting zoos love all the attention. Children can enjoy feeding the tame marmots and high up in the mountains they can even meet a chamois.
SKI AND SNOWBOARD IN SUMMER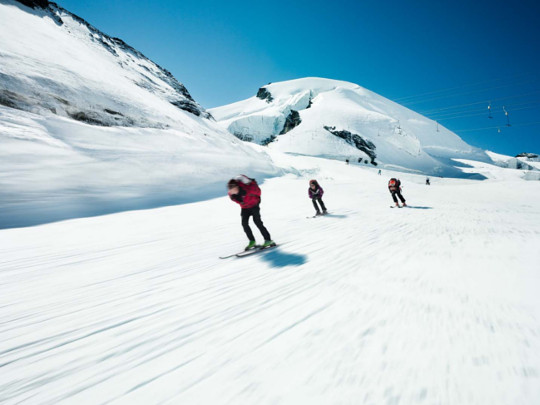 Fancy skiing or snowboarding in the middle of summer? Then come to our summer ski area on the Allalin, 3,600 m a.s.l. Saas-Fee offers ideal summer skiing and snowboarding conditions. Up on the glaciers there are 20 km of slopes to suit all levels. No wonder Swiss and international ski teams come here for their summer training sessions!